Hands free car kits supplied and fitted by Gould's
Maintaining our reputation as a supplier of hands free solutions that meet or exceed our customers' expectations is always our No. 1 priority.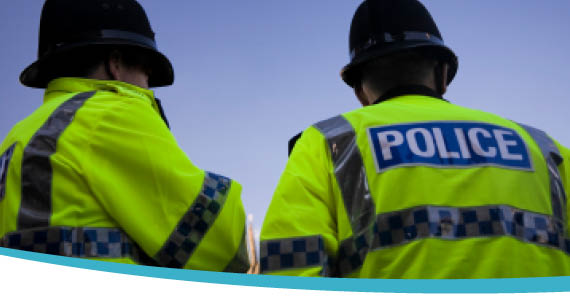 Avoid the penalties and drive safe with a hands-free car kit from Gould Electronics. Our fitters can install a Bluetooth hands free car kit quickly and professionally into your vehicle.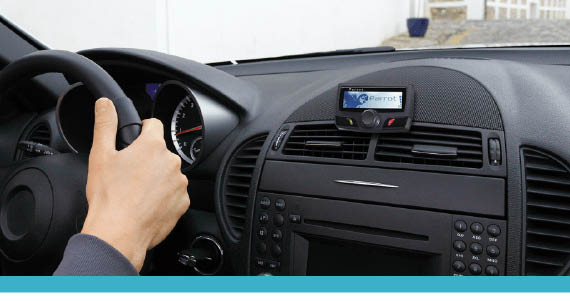 A hands free kit means you're contactable and ready to do business even on route. Keep on top of your workload by dealing with problems as they arise plus stay in touch with your family and friends.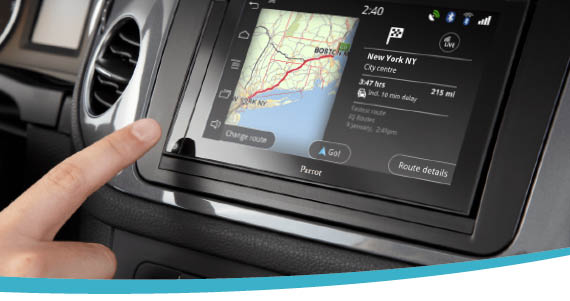 Gould Electronics offer the best in hands free kits; meaning that we can match your usage to the best available technology and price. Get in touch for professional advice and installation.
Hands Free Product Introduction
(Parrot) Hands Free products
(Bury) Hands Free products
Each product we offer has its own strengths and we take great care in our advice to you. We'll take care of everything from your initial equipment layout and design, to post installation support.

Please note: The products illustrated below are a small fraction of our full catalogue, selected to demonstrate the wide range of options.
Contact us for a more detailed analysis of your needs.
Parrot offers the most extensive range of hands-free communication systems on the market. Its globally recognised expertise in the fields of mobile connectivity and multimedia around Smartphones has positioned Parrot as a key player of in-car infotainment.
Parrot CK3000 Evolution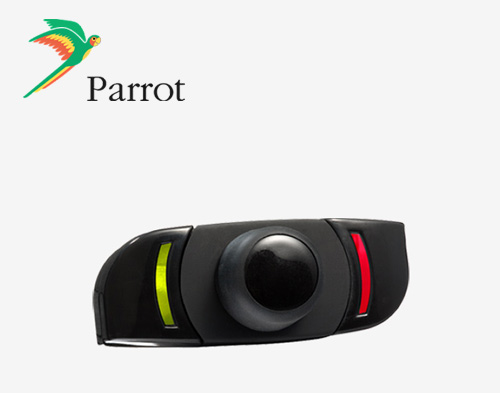 Start, drive and talk!
The Parrot CK3000 Evolution is exceptionally easy to use. On top of synchronising your contact list, maximum audio quality and listening comfort using your car's front speakers, voice recognition makes this one of the most intuitive and effective systems. You won't be able to do without it.

Compatible with a wide range of vehicles, installing your CK3000 Evolution couldn't be easier with the various cables and connectors supplied. It's designed to discreetly blend into all passenger compartments. With the CK3000 Evolution, synchronise up to 150 contacts. Once your voice print is saved, use it to call one of your contacts – your voice does all of the work, so you can keep your hands on the wheel. The CK3000 Evolution eliminates echoes and filters background noise: the only thing you'll hear during your calls is your voice and the person on the line. No more interference or inaudible conversations!
Key Features
Interface with LCD screen
Adjustable external microphone
Electronic box
Power cable with ISO connectors
Mute cable with ISO connectors)
Quick-start guide
Assembly accessory kit
Enquire
The Parrot CK3100 LCD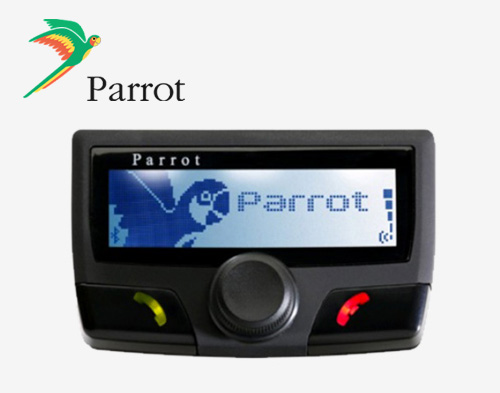 Drive hands-free and worry-free
Make and receive calls without touching your telephone thanks to the wireless connection between the Parrot CK3100 LCD and your Bluetooth telephone. An incredibly intuitive interface lets you manage incoming and outgoing calls. Compatible with all mobile telephone brands on the market, the Parrot CK3100 LCD automatically connects to and synchronises your contacts. All of the telephone's information is displayed on the screen. It's so easy!

Once paired with your telephone via Bluetooth®, the CK3100 LCD connects and synchronises automatically. You can accept or reject an incoming call with a single press of the corresponding button, or navigate through its easy interface to call the person of your choice. With voice recognition, you can even control your CK directly through speech. Everything is designed for you to keep your eyes on the road and your hands on the steering wheel.
Key Features
Interface with LCD screen
Adjustable external microphone
Electronic box
Power cable with ISO connectors
Mute cable with ISO connectors)
Quick-start guide
Assembly accessory kit
Enquire
Parrot ASTEROID Smart
An ultra-complete multimedia car radio, for safe and enjoyable driving.
Enter a new dimension of entertainment and driver assistance! Parrot Asteroid Smart gives you a wide range of features and applications to make driving easier and more pleasant – including phone, apps, GPS navigation, music, internet, camera streaming, and more. From the multi-touch screen, navigate naturally, just like you would on a smartphone. Stop counting the miles, just enjoy them!

The Parrot Asteroid Smart includes a GPS receiver. Combined with the installed iGO GPS application or your own (Waze, Maps, etc.), it shows you the best route for reaching your destination. Want to know where the world's going? The Parrot Asteroid Smart provides plenty of ways to connect to the internet on the go. To use this feature, use a compatible mobile telephone, a 3G/4G key or a Wi-Fi® access point... And then hit the road!. Choose your music to keep you company while you drive: the Parrot Asteroid Smart plays your music from a variety of sources. Choose your artist, album or playlist, and enjoy HD-quality audio. The Parrot Asteroid Smart shows images from a rear-view camera. It is also designed to transmit videos to external screens, for example in rear passenger headrests. Your children will love watching their favourite cartoons and action films!
Enquire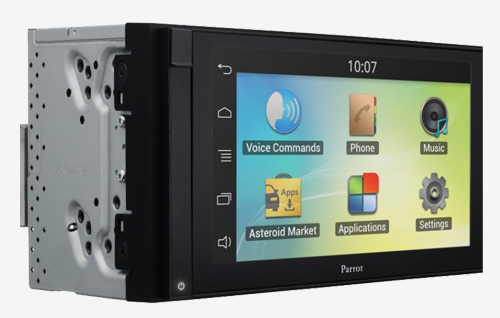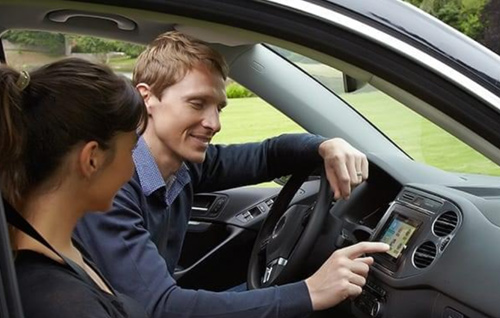 Bury - Take and Talk System 8 Cradle Car kit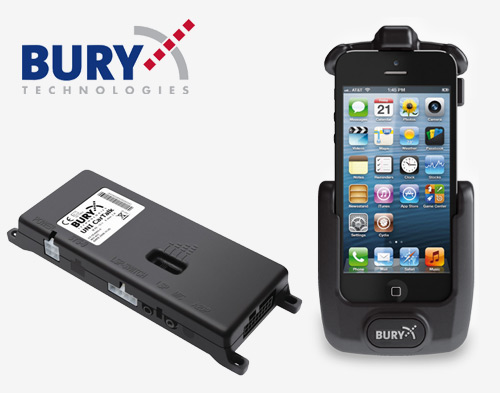 You'll find the right connection set for almost all mobile phones.
The UNI CarTalk combines perfect voice quality with flexible applications for both the private and business use of mobile communicating technology in the car. You can dock your mobile phone specific UNI System 8 take & talk cradle - together with your mobile phone - giving instant charging, improved reception and handsfree capability.

The Bury CarTalk car kit features an instantly swappable cradle which allows users to update their phone without replacing the whole car kit! Simply choose the cradle you need for today clip it into the car kit then you're ready to go.
Key Features
Snap-in mounting allowing you to quickly and easily upgrade the cradle in the future
Built-in charging function for unlimited talk time in the vehicle
Aerial connection for superior hands-free broadcast and reception performance
Radio mute function will automatically mute the radio and connect to the car speakers
Full Integration
This car kit is designed to integrate with the car radio speakers. During a telephone call the stereo will mute any audio (music, radio, CD etc) and route the conversation through the front speakers of the car.
Control at your fingertips
Simply clip the Bury System 8 active cradle into the snap-in Base unit and then insert the phone in the active cradle. Turn on the ignition and the mobile phone will start charging instantly; now use the mobile phone as you would normally to make or receive hands-free calls.
Enquire
BURY CC9058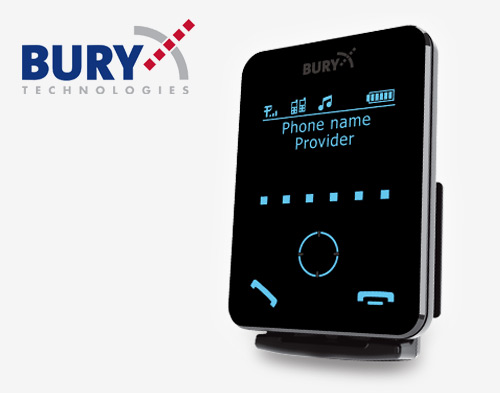 Touchscreen Bluetooth Car Kit
The Bury CC9058 has a clear black display Which provides your caller information and device status. Superior voice audio through your vehicle speakers and a charging solution for your device are also provided with this package.
Key Features
Illuminated sensor keys for call handling and volume control
Display of the caller's name, telephone number and further information on the display
Battery charging function for optimum convenience of use, scope of delivery
includes Micro-USB charging cable
Universal mute radio unit with USB connectors
Multipoint-function simultaneous connection of two mobile phones to the system is possible
1 The scope of the functions may vary according to mobile phone network provider and software version
In Detail
Perfect voice output thanks to use of vehicle sound system
Automatic radio mute function when calling
Update possibility – via USB cable and software package
Bluetooth – wireless connection of the mobile phone and carkit
Memory capacity – max. 8 phones, up to 1,000 phone book entries
User information – telephone number and status announcements in different languages
Voice Tags1 – access to voice tags stored on mobile phone
1 The scope of the functions may vary according to mobile phone network provider and software version
Enquire